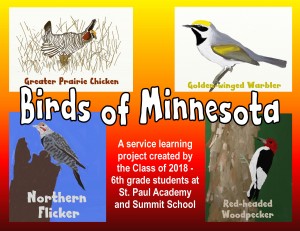 One of my favorite tools on student tablets is ArtRage and after this year, it's becoming a favorite of my students as well.  ArtRage has been on our student ClassmatePC tablets (Nobis) as part of the ClassmatePC ecosystem.
One of the major components in my middle school is service learning.  In 6th grade, our service theme is birds.  From our website:
Through art, technology and mathematics, students learn about birds, bird identification and bird migration in addition to the effect of climate change and environmental degradation on birds and their habitat. Students have members of the St. Paul Audubon Society visit and discuss birds of Minnesota and their habitat, challenges to birds and the basics of bird identification. They travel to Carpenter Nature Center to learn about migration and bird banding, keep journals on their Nobis about birds they've seen, and take raw data from migration tracking organizations for use in a graphing unit in their math classes. In addition, sixth graders will maintain a new bird feeding station outside Bigelow Commons. One of their choices for service activities in the winter will be designing a bird-enticing garden around the station to plant in the spring.
The project with which I've been most involved this year is the Birds of Minnesota calendar.
We wanted students to focus on a Minnesota bird of their choosing and become an "expert" about the bird.  Using tools like
All About Birds
and the
Peterson Bird Guides
, Students learned about regional birds and learned how to identify their chosen species.  They learned about migration habits, diet, and threats both in nature and from humans.
To create the images in the calendar, we:
1.  Found an image of the desired bird online and downloaded it.
2.  Imported the image as a layer in ArtRage.
3.  Traced the image to a new layer.
4.  Hid the original and, using various tools and techniques, illustrated the bird.
5.  Added additional layers for the setting and whatever else kids wanted to add.
I taught the kids the basics, and one of our art teachers coached on more artistic techniques, but the cool factor was how kids discovered how to create various effects and taught each other.  Very cool indeed.  By the end of the projects, many of the students became so adept at ArtRage that they could teach others.
To create the calendar, I imported the images into Publisher (the easiest layout tool I could find) and pulled in public domain images for the backgrounds.  Each month was exported as a 300 dpi JPEG to be imported into Lulu.  We added cool bird facts, local migration info, and bird/nature websites to the holidays standard on calendars.
Although we used tabletPCs to create the images, you could easily do something similar on iPads with ArtRage or a similar tool.  We use ArtRage 2.6, but there are other versions available, depending upon your needs.  The basic program does everything we needed it to do.  Two thirds of our 6th graders mastered ArtRage in the process of this project (and the rest were inspired to learn it independently after a solid overview in their tech classes and support from peers); it's now a major part of their personal learning toolkit!
If you'd like a copy of the calendar, it's available for $15+shipping on Lulu.  See the
preview
and link below.