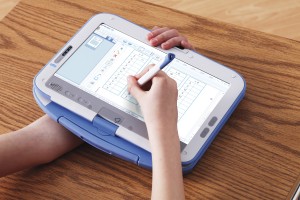 I've had the new ClassmatePC Convertible (10.1″) for about a day and will be reluctantly giving it back tomorrow (bummer!).  Lots of people have been asking me for thoughts, so here's what I've got to share:
Kids' reaction – My 6th & 7th graders have had the ClassmatePC Convertible 8.9″ in a 1:1 environment since September.  When Jim, my sales rep from Equus, came to school to drop of the demo model, we were swarmed by kids with questions.  "Where's the stylus?" "How big is the screen?" "How big is the keyboard?" "Does it still have a webcam?" "Does it come in other colors?" (The demo is blue.)  "Will we get this one next year?" (Apparently the whole speech about getting one computer and making it last through 8th grade we've been talking about since September temporarily slipped their minds!)
Teacher reactions – They loved the improved screen (1.2″ larger) and keyboard size (about the same size as the keyboards teachers use on their tablets – no real noticeable difference) .  Teachers thought it would  nice to have navigation buttons in swivel mode (on display);  several started asking about ebooks and comparing the Classmate the the Kindle and the iPad (with the Classmate more capability than either).  The display has a button that launches the camera, so students can be in swivel mode (screen down, not using keyboard) and easily use the webcam for projects.  The 2nd headphone jack would be really great for listening activities when students might share a computer w/each on a set of headphones.
Tech reactions – I spent time with members our tech team and really looked closely at the new Classmate, comparing it to the machine we currently have and others we've used 1:1.  Anyone using laptops in a 1:1 environment knows kids use the hardware differently than adults would ever intend and tend to cause wear on machines we wouldn't otherwise anticipate.
Likes/Improvements:
Screen & keyboard size
Port access & availability
Navigation buttons on display
Better inking/responsive stylus and screen
VGA port – no screws, so swapping w/projector will be fast
Better placement of keys – old keyboard was small but it had keys many netbooks didn't; this one has a larger keyboard w/easier access to many of the keys.
Good cushioning on the display when it's closed (there are little nubs around the display to cushion closing; wouldn't be likely to break the display if a pencil were left on the keyboard.
Rubbery exterior makes it less likely to slip and will protect it.
Hard drive is easily swappable – nice for laptop program in case hardware d
Concerns/Questions:
Will stylus still get stuck?  The current machine has an issue w/stylus going in too far.  A paperclip usually pops it out, and a tether usually prevents it from going in too far.  This one looks like it shouldn't be an issue.
Handle feels good, but we're concerned about it causing a separation between the exterior rubbery stuff and the computer when stretched.  It's a change from the old Classmate; kids mention preferring the new handle.  May not be an issue; our kids will have cases for carrying between classes, so the handle isn't used that heavily.
Microphone and speakers were not very loud (to the adult ears testing).  I think this is actually good for a classroom environment; if you're close to the machine, you hear it.  If you're not, you don't.  Not all kids have headsets, so this is good for classroom use. Our classrooms all have projectors w/speakers installed, so if there was something on student machines we wanted to listen to as a class, we'd just plug in.

The screen's a little softer than the current Classmate, but I think it makes the stylus more responsive.  We noticed that pressure against the back of the display showed a shadow on the front.  This is typical in other laptops; tech team was concerned this a potentially a weak spot compared to current Classmate.
GPS plug may need to be super-glued so it won't be lost if schools aren't adding it.  If you don't install the GPS, there's an antennae port with an easily-removed plug.  Not a big issue.
Techs wanted to drop-test and water-test it.  Considering I only had this for a day…
Overall, I was VERY pleased with what I saw.  I just wish I had a couple now so I could start building my image.  I had a little time to start playing with the ecosystem tools w/Windows 7 (Starter Edition Standard).  We'll likely need Windows 7 Ultimate as we need students to access our school network pretty heavily throughout the day.
My sales rep said the price point shouldn't be much higher than our current machine.  With a netbook, it's prudent to max out the RAM.  We'll also add MS Office so we have OneNote.  I'll mention more about the ecosystem tools in my next post.
Anything I missed?  I have to give it back tomorrow 🙁  Hopefully I'll have another to start working with soon!
Fact Sheet from Intel (PDF)